A few weeks ago, one of our sellers decided to freshen up the walls with a new coat of paint. White seemed like the easy answer to make the condo look as bright, large and open as possible. If you've ever had to choose "the perfect white," you probably know the decision is not as easy as it seems. Some whites seem too cold, others too pink/blue/yellow, and if you're like me you start to feel like Goldilocks in her search for something "just right." After checking out numerous websites and blogs by people who know a lot more about paint colors than I do, and several trips to paint stores and then checking out the paint chips in the condo, we ended up going with "Swiss Coffee." It casts a warm tone and the transformation was amazing! You can check it out here: 324 E Main Street, Unit 215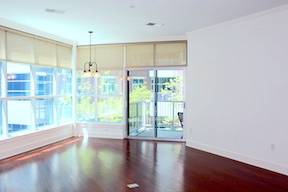 This is one of the websites that was most helpful in choosing
the perfect white color
. If you like looking at dreamy photos of different kinds of white including our choice of "Swiss Coffee", check it out.
Is color more your vibe? Check out
the hot color pallet of 2021
. My favorite on this list is Urbane Bronze because it looks great with aged brass accents and it feels very traditional Kentucky to me. Do you have a favorite?
...